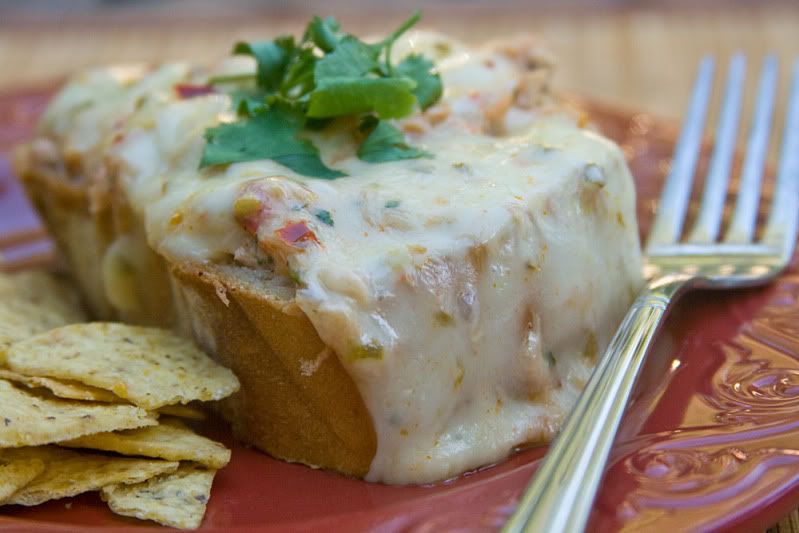 Tuna Mexi Melts by juliema
Source: Mommie Cooks
Ingredients
For the Picante: 5 Roma Tomatoes, Roughly Chopped 2 Green Onions, Chopped 1/2 Jalapeno; Seeded, Cored and Chopped 1 Small Bunch of Cilantro 1 Clove of Garlic 1 Lime, Juiced For the Bread: 1 Loaf of French Bread 5 Tbsp of Butter, Melted Cumin for Sprinkling Chile Powder for Sprinkling Garlic Powder for Sprinkling For the Melts: 3/4 Cup of Shredded Cheddar Cheese 3 Cans of Tuna 3/4 Cup of your Picante 1/2 Cup of Sour Cream 1/4 tsp of Salt 1/4 tsp of Cumin 1/4 tsp of Chile Powder 1/4 tsp of Paprika 8 Oz of Pepper Jack Cheese, Sliced
Instructions
We'll whip up the picante first. To do this, go ahead and add all the ingredients into your food processor. Zip it up good and then add in some salt to taste.

Next up, grab your french loaf and slice it into 1″ slices. Brush the melted butter over your slices of bread and then sprinkle on some cumin, chile powder, and garlic powder.

Add all the melt ingredients with the exception of the pepper jack cheese to a bowl and mix it up good. Now grab your bread and lop a large spoonful of the tuna mixture on each piece. Top them all off with a slice of pepper jack cheese. Throw your sandwiches into an oven heated to 350 degrees and let them heat up for about 10 to 15 minutes or until your cheese is melted and bubbling.
Servings: 10 Serving Size: 1 Melt