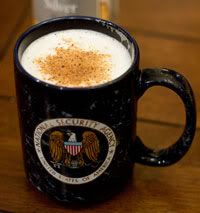 Hot Buttered Rum by juliema
Source: Mommie Cooks
Ingredients
2 Sticks of Butter 1 Cup of Confectioners Sugar ˝ Cup of Brown Sugar ˝ Cup of White Sugar 1 tsp of Vanilla ˝ tsp of Nutmeg 2 Cups of Ice Cream, Softened
Instructions
First up, you'll cream together the butter and your three sugars.

When it's good and mixed together, add in the vanilla and nutmeg. Last but not least, add in your softened ice cream and stir it to combine.

Your batter can be stored in the freezer. When you're ready to serve up a mug of yumminess, you'll simply place a heaping tablespoon or two of the mixture in a mug, fill it with hot water and a jigger of rum (you'll leave the rum out for virgin), stir well, sprinkle a little nutmeg on top and prepare to be warmed from the inside out.