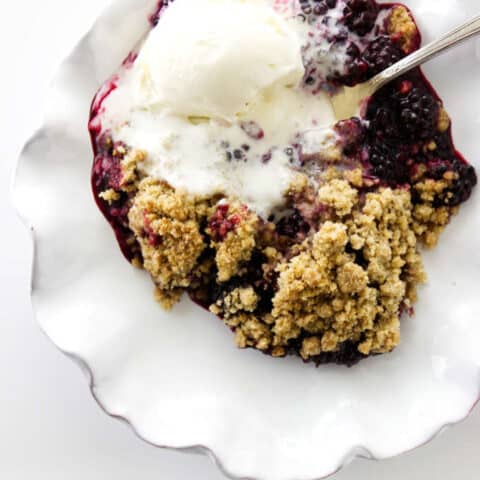 Blackberry Crumble by LeAnne_B
The amount of cornstarch you use will depend on how ripe and juicy the blackberries are. If you have really ripe juicy blackberries then use 6 tablespoons but if your blackberries are not super juicy or soft then use 4 tablespoons. If you use frozen blackberries use 5 to 6 tablespoons of cornstarch.
Ingredients
3/4 cups granulated sugar 4 to 6 tablespoons cornstarch (see notes) 1/3 teaspoons ground cinnamon Lemon zest from 1 lemon 3 pounds fresh blackberries (about 6 cups) Crumble topping: 2 cups all-purpose flour 1 cup packed brown sugar 1/2 teaspoon ground cinnamon 1/2 teaspoon salt 10 tablespoons butter, melted
Instructions
Pre-heat the oven to 350F. Grease a 8x8 inch baking dish.
Combine the sugar, cornstarch, cinnamon and lemon zest in a small dish until all the dry ingredients are blended well. Gently toss the sugar mixture with the berries then place in the baking dish.
Crumble topping:
Combine the flour, brown sugar, cinnamon, salt, and butter. Stir with a fork until it has clumps the size of peas. Sprinkle evenly over the berries
Place the dish on a rimmed baking sheet (in case the juices bubble over the edge). Bake for about 55 to 60 minutes until the top is golden brown and the juices are bubbly.
Let the berries cool slightly and serve with ice cream or sweetened whipped cream.