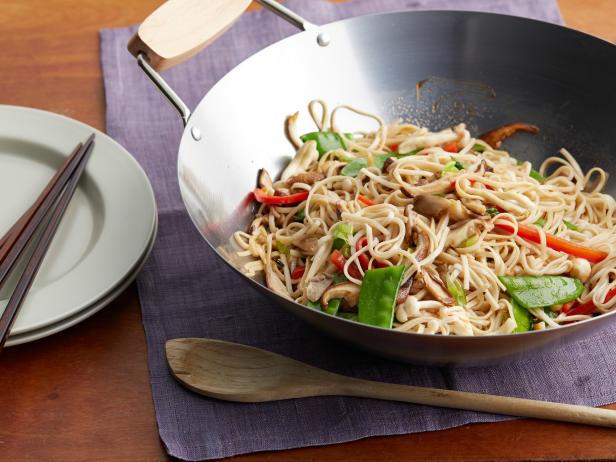 No-Pain Lo Mein by Joestar
Ingredients
2 tablespoons (2 turns around the pan in a slow drizzle) vegetable or wok oil 1 cup (2 handfuls) snow peas, halved on a diagonal 1 red bell pepper, seeded and cut into matchstick-size pieces 1/2 pound assorted mushrooms (shiitake, straw, enoki, or oyster), coarsely chopped, if necessary 4 scallions, thinly sliced on a diagonal 2 cups (about 4 handfuls) fresh bean sprouts 2 inches fresh ginger root, minced or grated with hand grater 4 cloves garlic, minced 1 pound lo mein noodles or thin spaghetti, cooked to al dente and drained well 1/2 cup aged tamari soy sauce 1 tablespoon toasted sesame oil, several drops
Instructions
1. Heat a wok-shaped skillet or large non-stick skillet over high heat. When pan is very hot, add oil, (it will smoke a bit) then,

2. Immediately add the snow peas, pepper, mushrooms, scallions, and bean sprouts. Stir fry for 1 minute to flavor the oil, then add the ginger and garlic, and stir-fry 2 minutes. Add the cooked noodles and toss with to combine.

3. Add the soy sauce and toss the ingredients to coat noodles evenly with sauce. Transfer the lo mein to a serving platter and garnish with a drizzle of toasted sesame oil.
Servings: 4